Alfred Vincent Kidder
Jillian Co
Early Life/Biography
Alfred Vincent Kidder was born in Marquette Michigan on October 29, 1885 and died at his home in Cambridge, Massachusetts on June 11, 1963, at age 78. His parents were Alfred Kidder and Kate Dalliba Kidder. His father had moved to Michigan from the East Coast to work as a mining engineer. While Kidder was a child, his family moved back to Boston where his father was from. He attended the Browne and Nichols School in Cambridge until 1901, when he was sent to school in Switzerland for two years as a teenager. He returned to the Noble and Greenough School in Boston, before matriculating to Harvard College in 1904 where he spent the rest of his academic career, getting his bachelors degree in anthropolgy in 1908, and Ph.D. degrees in 1912 and 1914. 1
Kidder was exposed to archaeological literature early in his life, as he grew up around anthropology and archaeology publications in his father's library. Works he enjoyed reading included those of anthropologist and social theorist Lewis Henry Morgan, about pre-historic Native Americans. Growing up in Michigan, his father took Kidder and his brothers on frequent backwoods trips where he learned the essentials of being an outdoorsman that would help him later in his life. His first writing was actually published when he was fifteen, on the topic of ornithology. The 1901 article was titled "A Bittern at Close Range" in Bird-Lore magazine, now known as Audubon. While Kidder enrolled at Harvard with the original intention of becoming a physician, his turn to archaeology began when he selected Harvard's "Archaeology 5" course as an elective, but also when he discovered his distaste for math and chemistry courses, as seen in his unpublished memoirs.2 His career jump-started when he took summer work in archaeological survey in 1907.
The winter of 1908 to 1909, Kidder accompanied his parents to a vacation in Greece in Egypt. The Appletons, a family of Ipswich, Massachusetts, accompanied the Kidders on their trip. It was there that Kidder met Madeleine Appleton. 1 Alfred and Madeleine married on September 6, 1910. Kidder and his wife frequently worked together in his archaeology projects. They had 5 children together between 1911 and 1923: Alfred, Randolph, Barbara, Faith, and James. 3
Archaelogy Career
Start in Archaeology
Kidder's professional career in archaeology began when when he took a summer job working in archaeological survey in 1907. Found through a posting made by Dr. Alfred Tozzer in the Harvard Crimson, he set out to travel west. Although he had studied in Switzerland when he was younger, the trip was his first west of Chicago, and incredibly exciting for him as a lone traveler. He traveled west alone and met the rest of the group in Bluff, Utah the first day of July. The project was led by "Mister" Edgar Hewett, who led simply by leaving Kidder and fellow Harvard students Sylvanus Morley and John Fletcher alone for the month of July to conduct their own surveys of the land. Hewett provided incredibly little guidance to the group, and Morley, with the most experience, the rest having none, took lead of the group. Since Harvard provided no formal archaeological field training, this challenged Kidder to begin the process of creating his own methodology in survey. While staying the Holley family ranch, they mapped and measured many ruins of the McElmo and Yellow Jacket regions. When Hewett returned to them late July, the group traveled to Mesa Verde area, then on south to New Mexico. It was at the Puye site that Kidder had his first experience with archaeological excavation.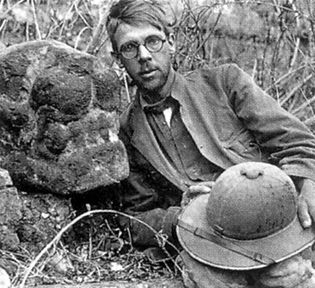 Throughout his trip, Kidder kept a journal that displayed his endless curiosity. His work in the McElmo and Puye regions ignited his deep interest in Southwestern pottery. Later, one of the most important contributions Kidder would make to American archaeology was his use of ceramic evidence in identifying various archaeological cultures in the Southwest. Through his experience in 1907, in addition to the skills he learned in field archaeology and archaeology survey, he became aware of the importance of pottery in the identification of cultural variations and cultural chronology.
Kidder returned to the Southwest with Morley next summer, after his graduation in 1908, sponsored by the Archaeological Institute of America and the University of Utah. He worked with Sylavanus Morley again, and the two had become good friends.
Later he returned to pursue graduate degrees in anthropology at Harvard, whose professors greatly influenced Kidder in his archaeological methods. One influential teacher was the Egyptologist George Reisner, who provided Kidder with a basis of knowledge in scientific field methods. Another favorite of Kidder was George Chase, an expert in the study of Greek painting. Kidder applied the knowledge learned in Chase's course to his own analysis, as seen in his Ph.D dissertation entitled "Southwestern Ceramics: Their Value in Reconstructing the History of the Ancient Cliff Dwelling and Pueblo Tribes: An Exposition from the Point of View of Type Distinctions". 2
Career Path
After earning his doctorate degree, he returned to the United States Southwest to continue work. The rest of his career can be broken into two major periods: his work in the Pecos region of the Southwest, and his work in the Maya regions of South America. Kidder's work in the Pecos region was culminated in his 1924 publication, An Introduction to the Study of Southwestern Archaeology: With a Preliminary Account of the Excavations at Pecos. For his work in the Maya region, in 1926 Kidder was appointed a Research Associate to the Carnegie Institution of Washington. The Carnegie Instituation was founded as a research organization in the sciences, humanities, and social sciences, and in 1921 had made long-term arrangements with the governments of Guatemala and Mexico for the continuation of field operation in those countries. By 1929 Kidder had become head of the Carnegie Institution's Division of Historical Research. Kidder remained the head of this department until he retired in 1950.1
When Kidder retired at age 65 on November 1, 1950 he was greatly respected in the archaeology community. Colleagues from across the country collaborated to form the Alfred Vincent Kidder Award for achievement in American archaeology. One hundred medals were created, and the award is given out every three years by the American Anthropological Association. He also earned much recognition, including honorary degrees from the University of New Mexico in 1934, University of Michigan in 1949, the National University of Mexico in 1951, and the University of San Carolos, Guatemala and additionally the title of Commander, Order of the Quetzal, from the Republic of Guatemala in 1955. He gained numerous other awards and help a plethora of positions among America's archaeological societies. 2 As shown by a tribute made by fellow archaeologist Neil M. Judd, whom Kidder met on his very first trip to Utah in 1907, Kidder made a long lasting impression and created a large network and influence within the field. 4
Major Contributions to the Field of Archaeology
Pecos
With his work at Pecos, Kidder began the graduate branch of his career in archaeology and developed his lasting footprint in the field. His contributions to the region included stratigraphic research and the beginning of his "pan-scientific" multidisciplinary approach to field archaeology. Kidder was able to successfully synthesize and expand upon the knowledge he had learned at Harvard to his own archaeological research. "His greatest achievement [at Pecos] was to herald to the Southwestern archaeological community the importance of stratigraphic excavation and documentation of chronological relationships. Beyond these contributions, he should above all be remembered as a master at methodological integration. He melded innovative field techniques, derived by both himself and by others, into comprehensive field method that all could embrace because of its intellectual breadth as well as its great utilitarian value." 2
A statement of one of Kidder's archaeological aims in studying the archaeology of the Pecos region can be found on page 142 of his own report on Pecos:
To trace the history of these people, to discover their origins, to learn how they conquered their harsh environment, how they increased and spread out over the plataeu, and how and why they eventually failed to hold their own in the struggle for existence, these are the chief aims of the study of Southwestern archaeology. A review of the subject matter of Southwestern archaeology must necessarily begin with a consideration of the still inhabited pueblos of New Mexico and Arizona.5
Kidder was not interested in the site exclusively but in what the site could show about a culture's growth and sophistication. He used stratigraphy as a tool for this.
2
This cited passage directly from Kidder's work provides direct insight into his framework of study.
Maya Region
Kidder's first trip to the Maya region was in 1926 to Coba, Quintana Roo, in Mexico's Yucatan Peninsula, then made his first trip to Uaxactun, in the present-day area of Peten, Guatamala, in 1928. To make the journey he had traveled by boat and muleback, recanting in his introduction to A.L. Smith's publication on the Uaxactun, Guatemala excavations of 1931-1937. Kidder remarked at the experience, "to one brought up in the clean, open pinewoods of northern Michigan, whose field work had all been in the semi-deserts of Arizona and New Mexico, it was strangely awesome." With the development of technology, Kidder's adventure was not over. In 1929, Colonel Charles A. Lindbergh, the famous pilot who had successfully navigated the first solo flight over the Atlantic Ocean from New York to Paris, offered Kidder his help. On plane rides over the area, Kidder and a fellow archaeologist tested out the feasibility of finding sites and plotting geographical features from the air. Modernly, it could be said that Kidder was one of the first to use remote sensing tools to conduct his research.
Like his focus on Pecos in the Southwest, Kidder's primary work in Mesoamerica was done in Kaminaljuyu, where he excavated from 1935 to 1937. Kaminaljuyu is a Maya civilization site in Guatemala that was occupied from 1500 BC to AD 1200. Kidder was able to adapt his field methods from Pecos to suit his new site. 3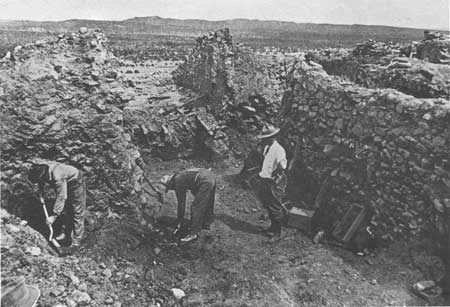 Legacy
Leading Americanist Archaeologist
Through his body of work spanning both the North American Southwest and Mesoamerica, Kidder was truly an Americanist archaeologist.
Pan-Scientific Approach
Kidder was one of the first archaeologists to bring in a team of multi-vocational specialists to help him with his work. He used what he dubbed a "pan-scientific attack", where he would recruit the help of experts from different areas to help analyze sites. The variety of knowledge on his team would give them special insight on archaeological problems. While his work in the Pecos region inspired the idea of a multifunctional team, his use of this can be easily seen in his Maya initiative as the director of Carnegie Institution's Maya Program. He aspired in the use of the Institutions resources to seek out geneticists, zoologists, botanists, ethnologists, physcicians, and so on to assist in archaeological analysis.3 His program was not free from criticism by colleagues, and the logistics of bringing together such a variety of scholars to work on single portions of a project proved difficult. 2 When speaking about his administration with younger students, Kidder was humble, simply mentioning, "as you know, I have been heavily criticized for this."7 However, the notion of his pan-scientific approach and venture into genred archaeology is applaudable.
Field Strategy
As mentioned in his major contributions to the Pecos Region, Kidder preached the importance and use of stratigraphy in archaeology. In a March 1996 article of American Anthropologist, David Browman and Douglas givens reference Kidder's "natural" strata approach as an initiator in the shift to New Archaeology. While the primacy of his use of stratigraphy to other archaeologists can be argued, it can be stated that he was exposed early to the idea from his classwork at Harvard with the Egyptologist George Reisner, and acknowledged the importance of the idea in his 1914 doctoral thesis, determining one of the three major problems still facing Southwestern archaeologists as "the general lack of distinct stratification in the sites."6
Pecos Conference
Along with the Alfred Vincent Kidder Award, a living legacy of Kidder includes the Pecos Conference, which still takes place every year, and of 2016 even has a Facebook event. Kidder started the first Pecos Conference in 1927 as a way for archaeologists in the Pecos area to meet and share ideas. Before this, archaeologists mostly worked in solitary groups, but the conference enabled the groups to share ideas. From Richard Woodbury, it can be said that the first Pecos conference in 1927 even provided indication of an interest in cultural resource management, where Frank Pinkley led a discussion of the problems of work on public lands, the threat of unauthorized digging, and relationships between field workers and National Park Service Personnel.2 Another important point to make about the Pecos Conference and Kidder's Pecos work in general has to do with the continuation of his work developing field strategy. 3 He seldom worked as a professor except as a Teaching Fellow as a graduate student at Harvard and one semester at the University of California Berkeley in spring of 1951, however Kidder was always active in teaching younger archaeologists and the Pecos field camp was essential in the development of the new leaders in the field of archaeology years later. Although informal, Kidder would join seminars and guest lecture in courses. 7 Kidder has reflected himself on the lack of training he received as a starting archaeology, and with the Pecos Conference and his openness to teaching new archaeologists, he encouraged communication and the disemmination of information to create a more cohesive archaeology in the Southwest. The Pecos Conference add to his legacy of humility and eagerness to spread his own passion of archaeology.
---
Resources
Written
Willey, Gordon R.. "Alfred Vincent Kidder 1885-1963: Biographical Memoir". National Academy of Sciences (1967) Washington, DC. Web... http://www.nasonline.org/publications/biographical-memoirs/memoir-pdfs/kidder-alfred.pdf
Givens, Douglas Randall. "ALFRED VINCENT KIDDER AND THE DEVELOPMENT OF AMERICANIST ARCHAEOLOGY. (VOLUMES I AND II) (STRATIGRAPHY, PECOS)." Order No. 8704936 Washington University, 1986. Ann Arbor: ProQuest. Web. 4 May 2016.
Wauchope, Robert. "Alfred Vincent Kidder, 1885-1963". American Antiquity 31.2 (1965): 149–171. Web... http://www.jstor.org/stable/2693982
Judd, Neil M.. "Alfred Vincent Kidder, A Tribute". American Antiquity 31.2 (1965): 272–272. Web... http://www.jstor.org/stable/2693997
Kidder, Alfred Vincent, and Robert S. Peabody Foundation for Archaeology. An Introduction to the Study of Southwestern Archaeology: With a Preliminary Account of the Excavations at Pecos. no. 1. Vol. New Haven: Pub. for the Department of Archaeology, Phillips Academy, Andover, Mass, 1924. Web.
Browman, David L., and Douglas R. Givens. "Stratigraphic Excavation: The First "new Archaeology"". American Anthropologist 98.1 (1996): 80–95. Web...
Greengo, Robert E.. "Alfred Vincent Kidder 1885-1963". American Anthropologist 70.2 (1968): 320–325. Web...
Images
Willey, Gordon R.. "Alfred Vincent Kidder 1885-1963: Biographical Memoir". National Academy of Sciences (1967) Washington, DC. Web... http://www.nasonline.org/publications/biographical-memoirs/memoir-pdfs/kidder-alfred.pdf
Photographer Unknown. "Photo of Mayanist scholar, Sylvanus G. Morley" (c. 1912) Copan, Honduras. Wikimedia Commons. Web... https://commons.wikimedia.org/wiki/File:Sylvanus_Morley_copan.jpg
Kidder, Alfred Vincent, and Robert S. Peabody Foundation for Archaeology. An Introduction to the Study of Southwestern Archaeology: With a Preliminary Account of the Excavations at Pecos. no. 1. Vol. New Haven: Pub. for the Department of Archaeology, Phillips Academy, Andover, Mass, 1924. Web.
Kessell, John L."Kiva, Cross, and Crown: Epilogue". National Park Service. Web... Accessed May 6, 2016 https://www.nps.gov/parkhistory/online_books/kcc/epilogueb.htm